The lifestyle of health, beauty, and wellness is one in which all residents of South Florida abide by. Nowadays, the appearance of legs and feet matter just as much as correction of the underlying problem. Therapeutics and aesthetics is a specialty area within podiatry and is growing in popularity. Aesthetic procedures performed by a podiatrist can directly benefit patients' confidence and well-being, while allowing the individual to continue living a healthy active lifestyle.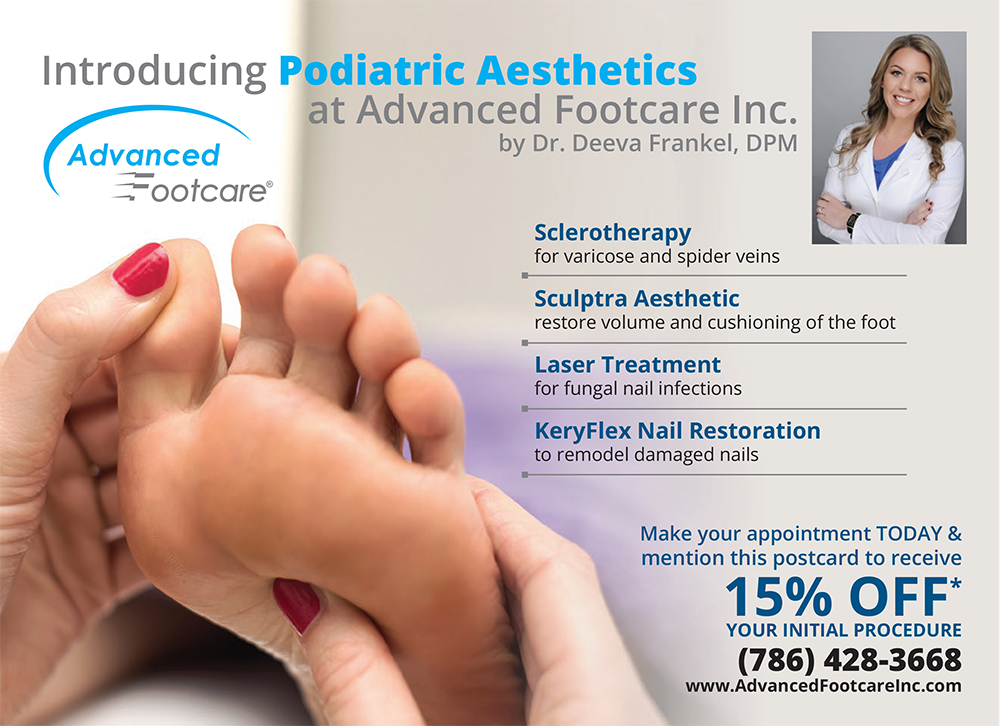 Lets take for example an individual who has been dealing with damaged and discolored toenails. This person acts by hiding the nail deformity under dark polish and always wears closed toed shoes, even during summer. This person would benefit from a simple in-office procedure that immediately restores and remodels the appearance of the toenail. Similar to an acrylic nail, however is flexible, durable, non-porous and can be used in combination with anti-fungal therapy including laser.
Then there are those individuals with severe unrelenting pain to the bottom of their feet, but required or love to wear high heels. For these individuals there is an innovative procedure performed to alleviate constant pain and burning. Token phrased as "pillows on your feet," Sculptra is a biocompatible and biodegradable filler injected directly into the plantar fat pad area that rebuilds collagen and restores volume and cushioning. After the procedure, patients can comfortably wear stylish shoes.
Aesthetic procedures are performed in the lower extremities to improve cosmesis and reduce pain and deformity. This article demonstrates two examples of how a simple in-office procedure can improve an individuals' quality of life.
For more information about all of the aesthetic procedures that can be performed or to make an appointment please contact Dr. Deeva Frankel at (786) 428-3668. www.AdvancedFootcareInc.com